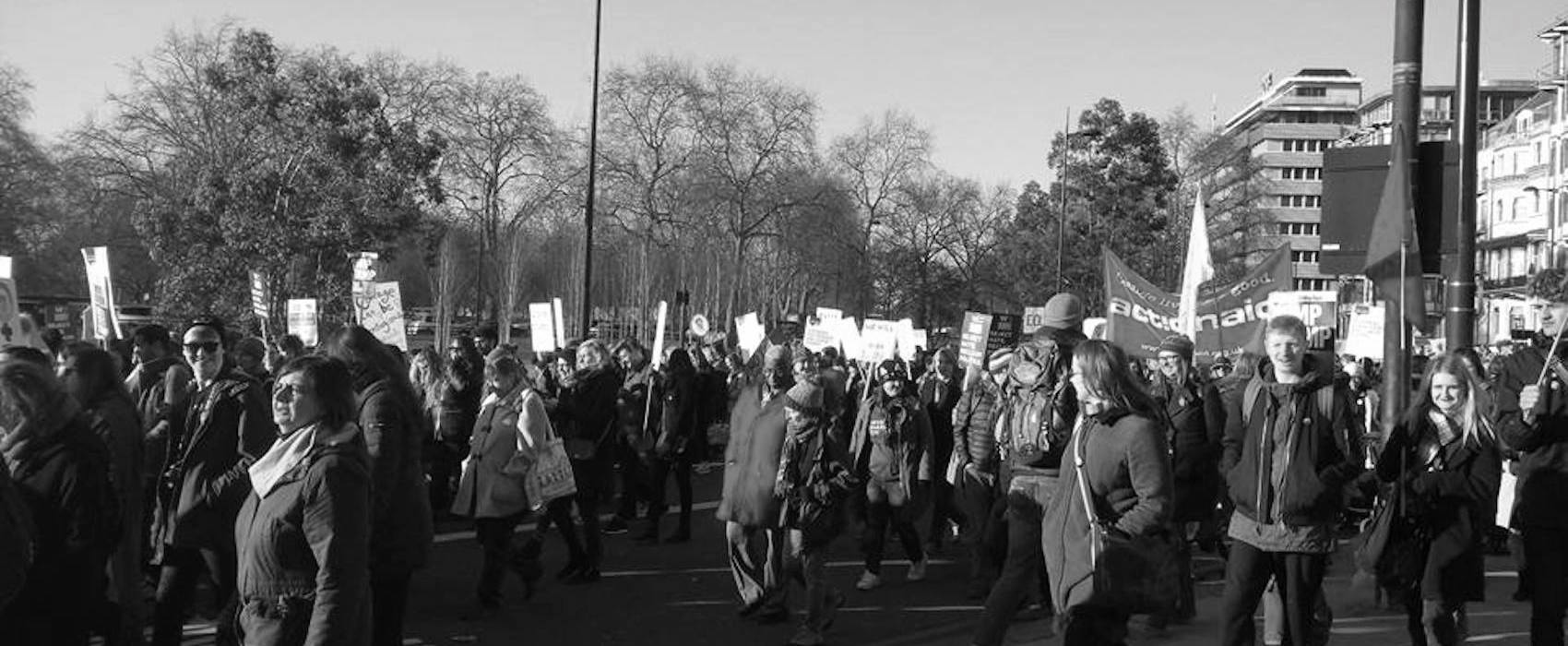 There were a number of reasons some people I know gave for not going to the women's march in London that I agreed with, but in the end I decided to go. My decision had a lot to do with the fact that my friend Debi asked me and I liked the idea of spending the day on the march with her, and a lot to do with curiosity – I wanted to see who went and what the flavour of it was. There was also a sense of throwing my lot in with an initiative, inspired by women, to draw a line when it comes to misogyny, sexism, racism and all the bigotry that the new president Trump and his administration seem to be so blithely displaying.
Some of my reservations proved justified, particularly that the turn out was predominantly white, and I have to say I loathed the pink pussy hats. But to me it was an important event, as a physical marker, a placing of myself in the struggle that lies ahead. I didn't feel like I was with 'my' people, I found the lack of politics in it discomfiting, and I don't know what it achieved. But the turnout – far more than anticipated – was a physical representation of the fact that many (mostly white, liberal) women had been provoked – by a president of another country, albeit a super power and the aggressive, predatory misogyny he seems to represent. And perhaps, as the journalist Paul Mason writes, it does matter that such events become part of the collective memory, and do "alter" people's lives by thrusting "big and complicated political questions into lives of routinely depoliticised people".
The collective part is itself complicated. Lots of women, those marginalised here and in the US, have felt under attack for long time, and distrust – and anger – towards the fresh faced protesters with their banners is to be expected. There seems so much ground to cover if unity is to be established – and it's going to take a lot more than white women calling on others not to be disruptive, or complaining in hurt tones that criticism of their motives and questions about whether they would show up to support Black Lives Matter have rained on their parade.
But this is where we are. The march was a marker of that, a recognition that we are in a struggle and we need to do something about it. What it didn't do is point the way ahead, which is what we need to start looking for. As for focus, we need to keep pushing outwards to the margins of our communities and wider society. Trump's behaviour and policies have triggered outrage, and are likely to angering and disorientating us for months to come, but it's important not to lose sight of the fact that many women in this country are under attack, women who are not afforded the status, respect and safety that the marchers asserted. Talking to Doncaster's Women's Lives Matter recently drove home the impact of of austerity and cuts on women's lives, with Women's Aid's services cut, shelters closed, sanctions imposed on women who have fled domestic abuse among the long litany of harm done.
What was also inspiring was the way that women in Doncaster, with a history rooted in the coal industry and the miners' strike had joined forces with Sisters Uncut in London, adopting some of their high-visibility campaign strategies in their fight to keep the town's Women's Aid Centre open.
We're going to need to learn from one another and learn how to work together amongst many other things. It strikes me that just as I placed myself physically in the march, I'm placing myself in that struggle to find a way as women to function in political space, not just as defenders of women's rights, but taking on the way that politics is done. For me, the cross over between the personal and the political seems marked. I'm realising too that if I am going to re-enter life it's not going to be into a re-worked version of the status quo, but I need to locate myself in the political space, and try in some way use my struggling for others too. Perhaps a reworking of the phrase 'the personal is political' is itself something to think about too, as it no longer seems tenable that we remove ourselves and our emotional response from the political sphere when so much of what we see happening here and in the US is fuelled by largely negative emotions.
The idea of struggle has had a lot of meaning personally recently, as I've realised what a fight it is to come alive. It's not some magical unfolding, it's a tough, demanding, sometimes exhausting and dispiriting process. What I'm learning seems important right now, that resistance is important, we need to resist the future that we don't want, the progression of forces that make life darker and bleaker. But we also have to engage in creative thinking, develop a sense of what it is we are moving towards. It's this part that seems most difficult personally, but also collectively. How do we develop a sense of a shared future and vision, and hold and nurture it in the face of the assaults against it?