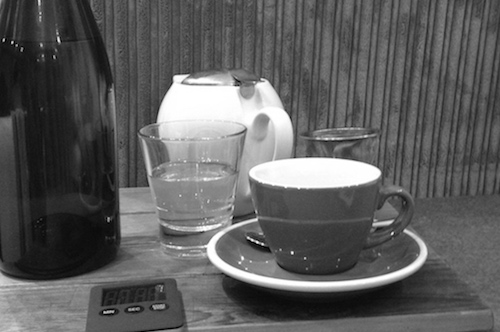 A friend's visit and her need to shop her way around London (it's her job) inspired me to check out some central London cafes this week… It meant she could shop and leave her growing pile of bags with me and we could meet for lunch.
Here's a quick run through of the places I visited:
Cafe Eterno: Had wifi and sockets, sofas and reasonable coffee. It was lunchtime when I was there and a lot of people squashed onto the sofas and armchairs around me, and some of the conversations were not easy to tune out. This cafe, which is run by London City Mission, was on reflection, a place where people went to hang out and chat, so it's definitely not an ideal place to work if you end up sharing a sofa, but a nice retreat.
Timberyard in Seven Dials – the image shows the tea I was served: its focus is on out of office workers, a group more and more cafes in London seem to be catering for. Geared towards freelances, but not dominated by them – there were quite a few groups of friends chatting, as well as people who used the spaces for meetings and co-working. The wifi was good too.
The next day I went to Flat Planet, which I've already mentioned. Again, geared towards freelances and co-working, with plenty of large and small tables and a good mix of chairs, sofas and benches.
Sacred was another good place for working – more sociable than anything else – but the buzz of conversation provided a great backdrop for working.
The other places I visited were Costa on Great Portland Street and the Brass Rail restaurant in Selfridges. Both had wifi and were OK to go to for a spot of work, but both were very busy and in the latter the smell of salt beef and gherkins could be distracting.
There's no doubt London has a strong cafe culture, and a lot of it is developing around work – there were people hunched over their laptops, working together or holding work meetings in most of the places I went to. But I haven't seen any of the collective or political culture that characterised the coffee houses of the late 1600s and early 1700s.
It's the essence of those coffee houses I am intrigued by and perhaps long for. As this history states, they were not only places where people met, they were places where things happened, places where…
intellectuals, professionals and merchants thronged to…debate, distribute pamphlets, do deals, smoke clay pipes and, of course, consume a drink said to resemble "syrup of soot and essence of old shoes". Newsletters and gazettes (the precursors of newspapers) were distributed in coffee houses and most functioned as reading rooms and notice boards announcing sales, sailings, and auctions to the businessmen who frequented them.