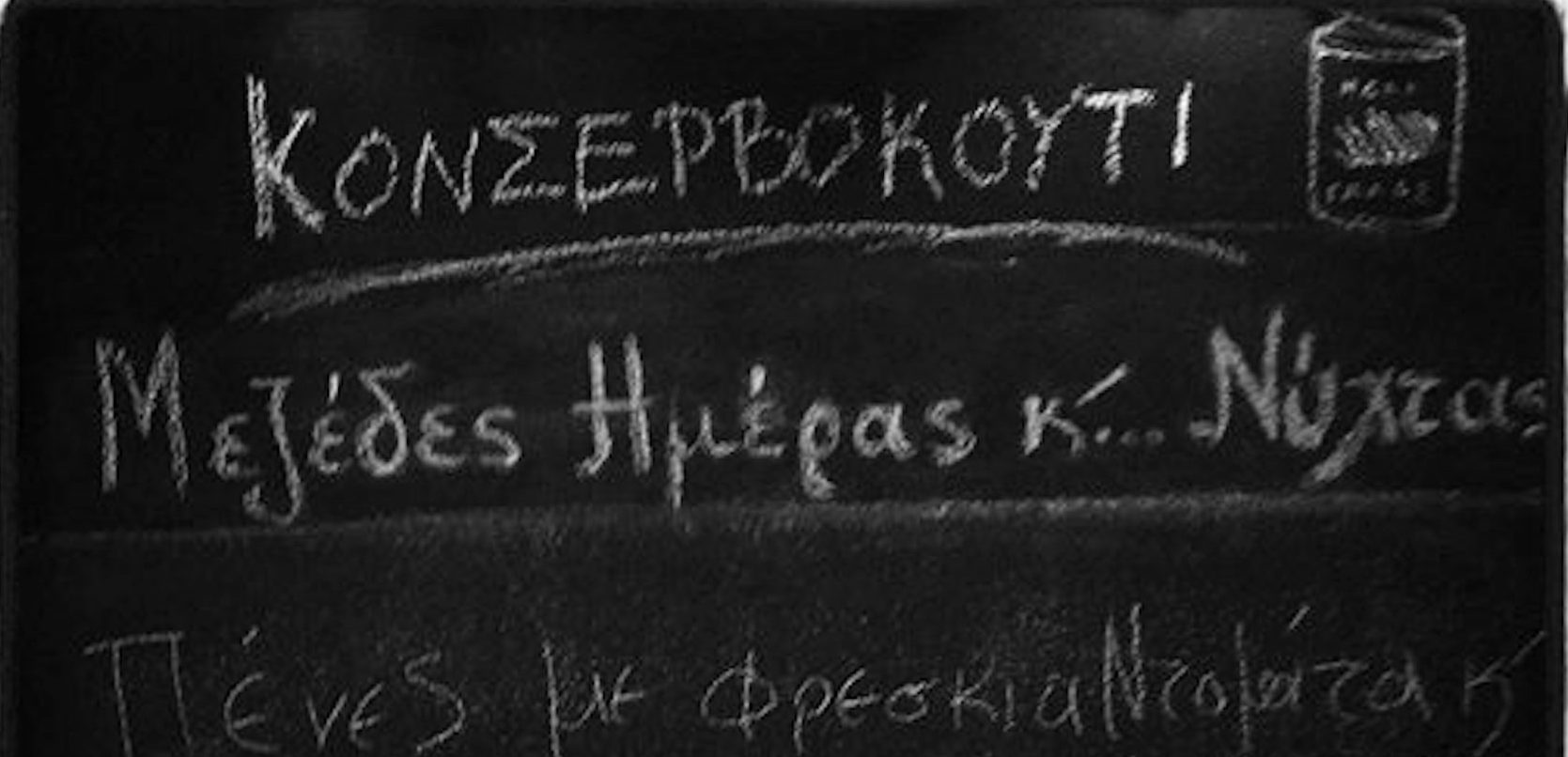 Situated in an old house on Ippokratous, just a few doors up from where Radio Bubble used to be, Konservokouti has been a favourite* since I first went there in July last year and was seduced by the tastes of honey and sausage and a host of other delights prepared by the chef Yannis who also presents a regular satirical radio show. The name means 'tin can' – a nod to the stories spread by the authorities that opened cans were the instrument of choice of murdering communists.
My growing bank of memories of this place are of excellent food eaten in a warm glow of energetic, funny conversations that take place as endless cigarettes are rolled and smoked and glasses emptied. The restaurant grew out of the Radio Bubble community – set up by people involved in the early days of the radio station, a perfect place to stop off and eat after a shift.
I remember being asked during my first visit what I thought of Athens and saying that I sensed significant trauma among the people and that walking around I felt as if I was picking through the rubble after an earthquake. He replied that yes, the Greek people had experienced trauma, and they weren't yet at the "post-traumatic" stage.
Maria mentioned another extract in Agota Kristof's memoir, The Illiterate, in which she describes her shock at the realisation that she had become so far removed from her past suffering that she had become critical of others.
I learn from the newspapers and the television that a ten-year-old Turkish child has died of exhaustion and exposure while illegally crossing the Swiss border with his parents. The 'smugglers' left them near the border. They had only to walk straight ahead until they reached the first Swiss village. They walked for hours through the mountains and the forest. It was very cold. Toward the end, the father carried the child on his back. But it was already too late. When they reached the village, the child was dead of fatigue, exposure and exhaustion.

My first reaction is that of any Swiss citizen: 'How could people have embarked on such a risky adventure with children? Such irresponsibility is unacceptable.' The shock I receive in return is violent and immediate. A cold, end-of-November wind sweeps through my well heated room, and the voice of memory rises up inside me with stupefaction: 'What? Have you completely forgotten? You did the same thing, exactly the same thing. And your own child was practically a newborn.'
I thought about the Poverty Truth Challenge event I attended in Leeds where people who lived in poverty spoke about their experiences – and how many of the leading figures in the city afterwards began talking about their own hardship – as if they had remembered.
During the evening a violinist came in and played – she was an accomplished musician who had been unable to find work since she arrived in Athens. Not only did the staff welcome her in, I saw some of them talking to her with looks of absolute respect and warmth. I'd seen them greet guests they knew with hugs, stopping to talk to them – and it was heart warming to know that this was extended to those like the violinist who were not in their immediate circle. That night, like each night I've been there, has a soft, golden glow around it – the team at Konservokouti have succeeded in creating a place that somehow acts as a container for all the warmth and heart that seems so characteristic of many Greeks.
When we visited the cleaning women the following day, Dora told us that each night since the women began their vigil Konservokouti has provided 25 meals for them. Both Mark and I said afterwards we felt close to tears when we heard this – it's a quiet act, not done for plaudits or recognition, apparently. But it is a fine act of remembering.
* I must also mention our visit on the second night of our trip to Kriti 0 Veranzerou 5, Kanigos Square. It's an easy to miss Cretan restaurant tucked away in a little arcade – it inhabits two units after taking over a vacant shop – that serves silence-inducing good dishes and warm, honey-infused raki to wash it down…